Gasoline prices in Lebanon almost doubled in the past six years and are proving to be a source of economic burden and political tension. Analyzing what goes into the cost of gasoline is key to understanding what the government could do to lower gasoline prices.
According to the Lebanese Ministry of Energy & Water, 67 percent of the current retail price of gasoline in Lebanon reflects the price of purchasing fuels on international markets; 22 percent are government fees – including customs and VAT; 9 percent for distribution and marketing private profits; and 2 percent for shipping and transportation costs.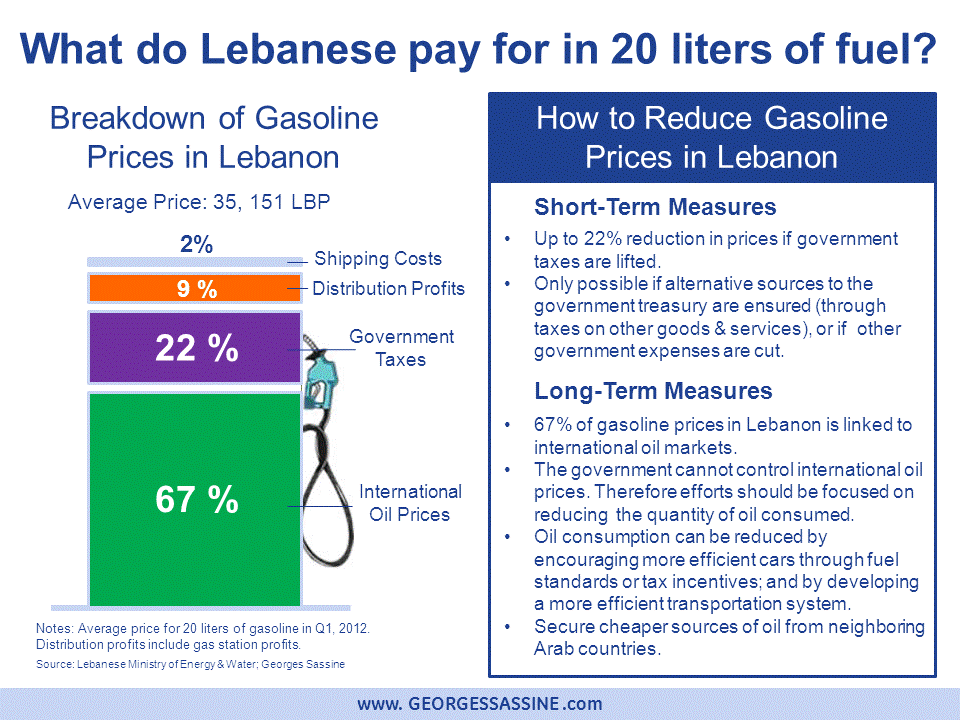 While prices could be theoretically reduced by 22 percent by lifting government taxes, it is not viable to the economy. Fuel taxes constitute a major source of government revenue, and since 2009 the Lebanese government decreased its share of revenues from fuel taxes from 42 percent in 2009 to 22 percent in Q1 of 2012.  According to Prime Minister, Najib Mikati, gasoline taxes would be lifted if alternative revenue sources to the treasury are ensured.
It is then obvious that gasoline pricing in Lebanon is mainly driven by international oil prices and policy efforts should be targeted at reducing the fuel import bill. While Lebanese policymakers cannot affect world oil prices, they do have other options to reduce gasoline costs.
First the use of more fuel-efficient cars and trucks should be encouraged. Fuel standards or tax incentives on more fuel-efficient cars will reduce oil consumption in Lebanon and save Lebanese significant amounts of money in fuel bills. Second, an efficient and improved transport system would also reduce oil consumption. The third initiative should address the availability of gasoline in cases of emergencies and supply disruptions. One viable option is for Lebanon to benefit from its relations with regional oil producing countries and enter into "emergency oil sharing agreements" – where Arab countries would be obligated to make oil available for sale to Lebanon in the event of an emergency.